Askew Family Website
© Copyright 2007   Robert M. Holley, Jr.
[We are greatly indebted to Keith Miller, Ann Wear Jacob, and Jean Phillips for providing, processing, and interpreting many of the photos on this page]
–
Casey Askew (ca. 1745 – ca. 1817)
After much study, we still do not yet have absolute proof, but I believe that Casey Askew of Virginia was my 5th great-grandfather. Casey and family were recorded in the tax rolls of Prince Edward Co., VA in 1783 and 1785.  He next shows up in the land/probate records of Wilkes Co., GA in 1787-92.  It is quite possible that he received a land grant in frontier Georgia as payback for his service in the Virginia Militia during the Revolution.  In 1805, he was involved in a Hancock Co., GA land transaction with Joshua Askew, which, among other facts, strongly points to him as being Joshua's father.
Joshua Askew (ca. 1775 – 1828)
Joshua was my great-great-great-great grandfather. He and his family likely came from Virginia in the late 1700s and settled first in Wilkes and then Hancock County, GA. We know that he won a 202.5 acre homestead in the 1805 Georgia Land Lottery.  His property award was situated just east-southeast of Madison, the county seat of nearby Morgan Co. It is said that he was known in his day as "Honest Josh" and that the stone over his grave was so marked.  He or one of his sons gave the Askew name to one of the precincts of Morgan County, and there is a spring on the lands near Madison that he owned that was once known as "Askew's Spring."
In about 1800, Joshua married Aley Alford, daughter of Julius C. Alford (1747-1810) of Greene Co., GA, and grand-daughter of Lodwick Alford (1710-1800).  Joshua and Aley had ten children.  It was common for Joshua to name his sons after well-known Methodist clergymen, but surprisingly, given the unusual name, his fourth or fifth son, Spire Warren, was named for someone else, likely a member of the Alford family .
After Aley's death in about 1834, some of the Askew family moved to other parts of Georgia or to Alabama.  Spire moved to Early County, Georgia and then to Henry County, Alabama and settled south of Gordon, right near the Chattahoochee River.
Spire Warren Alford Askew (1810-1858)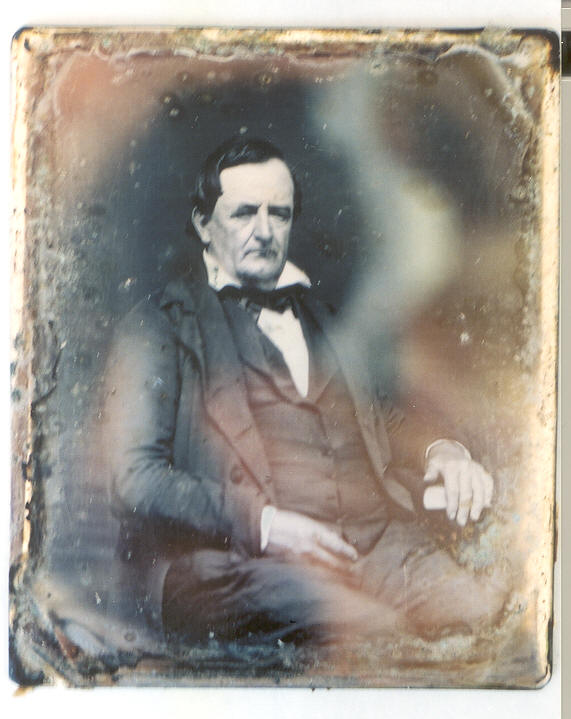 This is likely a picture of my great-great-great grandfather, Spire Warren Alford Askew.
The reason we think that this might be Spire is that the type of photo (daguerreotype), which was found in a large collection of Askew/Beach family pictures, would coincide with something shot in about 1845. The man also has his hand on a book which could be a Bible.  Spire, in addition to being a farmer, was a Methodist preacher.
Spire married Dicey Edwards, daughter of Thomas and Barbary Edwards, whose family came to Alabama from Orangeburg, South Carolina.  Spire and Dicey had nine children, the second of whom was Hilliard Judge, who was named for a Methodist preacher.
Hilliard Judge Askew (1838-1898)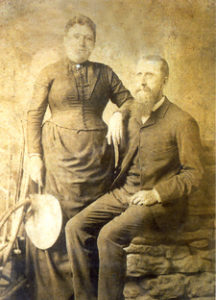 My gg grandfather Hilliard, a planter before the War, served as a Private, Co. D,  11th Regiment Alabama Infantry., CSA  He fought in all the battles of the 1862 Peninsula Campaign and at Antietam.
He was wounded July 2, 1863, the second day of the Battle of Gettysburg, but recovered to serve with the Army of Northern Virginia in all the major 1864-5 battles to defend Richmond.
Hilliard was married May 1866 to Sally Hancock (1838-1916), whose family was originally from Maryland/Virginia, and then Fairfield County, South Carolina.  Her grandfather, James Hancock, settled near Jonesboro, GA in about 1828, and, just as in the famous movie "Gone with the Wind," the family was burned out by General Sherman about the time he captured Atlanta in September 1864.  Most of the family fled, and Sally came to Henry County, Alabama and married Hilliard.
Sally's brother, my ggg-uncle,  was a distinguished Confederate soldier named Jesse Bowden Hancock.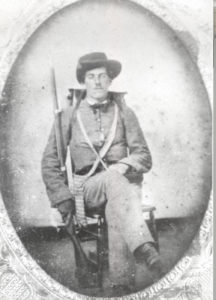 Jesse was badly wounded in the Battle of Antietam (Sharpsburg), but he continued in service until the end of the War.
                      We think that this is a picture of Jesse in his Confederate uniform.
In about 1911, just before he died, Jesse wrote down a brief history of his Hancock family as part of a biographical survey of Confederate war veterans.  A copy of that history survived and was passed down through the Askew family.  We used it to trace back our Hancock Family . It was Jesse's contention in his 1911 autobiography that his grandfather's  half-brother was John Hancock, signer of the Declaration of Independence. Proving or disproving that contention was what got me started doing family history.
Hilliard and Sally only had two children, the second of whom was my great-grandfather, Albert Harris Askew, who was named for his grandfather Albert Garrison Hancock.
Albert Harris Askew (1868-1934)
Albert was of the merchant class, and for some years had a grocery store in Ardilla, Alabama, a few miles west of  Gordon. Before 1910, he moved the family north to Columbia, Alabama where his grand-daughter, my mother, Mary Lee, was born in 1913.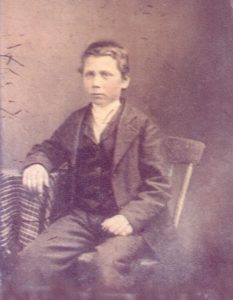 We are not absolutely certain, but this is probably a picture of Albert Harris when he was a young boy.
.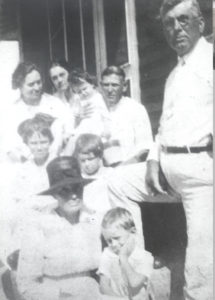 …and this is a picture of Albert– "Poppa  as he was known by the family– with his wife Lee ("Granny") [seated in front]– and some of their children and grandchildren in about 1920.  I think that my mom is standing just to the left of Albert's  knee.
Albert married a local Gordon girl, Lee Wilson (1867-1944),  in about 1886.  Lee was the daughter of a merchant, James L. Wilson (1827-1908), and Sarah Amanda Russ (1835-1908).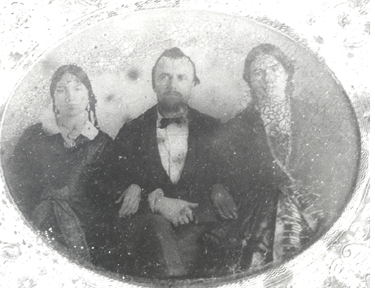 This old picture shows Lee Wilson [left] sitting with her father,  James [center], and her mother, Sarah Amanda  [right], sometime in the early 1880s.
Harry Lee Askew

(1888-1945)
Albert and Lee's only son was my grandfather, Harry Lee Askew, born in 1888 in Marianna, Jackson Co., FL.  Reportedly, Harry was named for Revolutionary War General "Light Horse" Harry Lee, the father of  General  Robert E. Lee.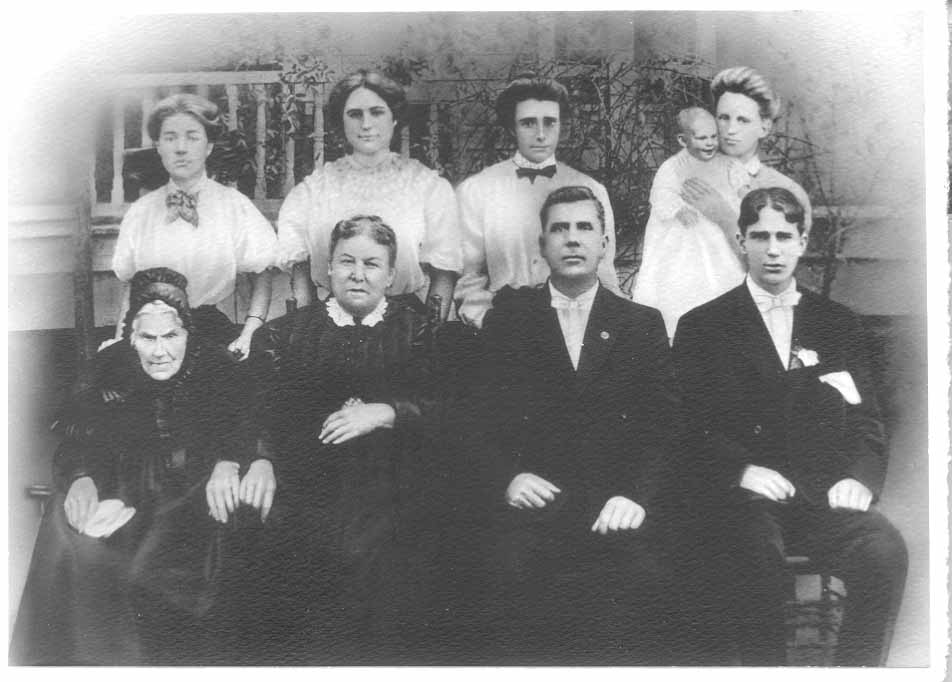 This may be the earliest picture we have of Harry Lee.  It was a beautiful group picture shot in about 1909 showing four generations of the Askew / Hancock families.
Harry Lee is sitting at the far right, next to his father Albert Harris. As is almost always the case in any photo in which Harry appears, he is the tallest one there.   Sally Hancock Askew is to the left of her son Albert, and Sally's mother, Mary Bowden Hancock (1820-1911)  is seated at the far left.  Standing from left to right are Harry Lee's sisters Sallie ["Keene"] Askew and Birdie Ethelda Askew Beach.  Lee Wilson is standing behind her husband Albert Harris, and rightmost, Harry Lee's wife, Mary Emma Hearn Askew is holding their first child, my aunt, Emma Hearn Askew.
Harry Lee Askew married my grandmother Mary Emma Hearn in 1906.  Mary Emma was the daughter of Buckner Mason Hearn and Julia Dimon of Columbus, Georgia.  Buckner and his family were lumbermen, and they moved around and set up and worked sawmills all over southern Alabama and Georgia in the 1890s and on into the new century.  Quite likely, this is where Harry Lee got into the lumber business in which he prospered until the late 1920s.
The young married Askew couple visited Havana, Cuba in about 1910 on a delayed honeymoon.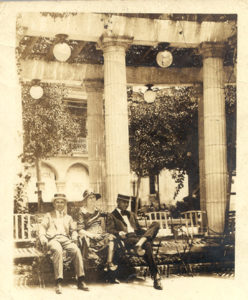 The gentleman on the left of the Havana picture was likely Montford Beach, who was married to Harry's sister Birdie Ethelda early in 1910.
Click here to find out more about Montford and the Beach family.
.
About 1916, Harry Lee Askew  relocated to Plant City, Florida; his father, Albert Harris, followed him around 1920 after Harry had become established. The Beachs accompanied Albert Harris, and for a time the families lived together until 1931 when Montford and Birdie purchased their own home in Bartow. After his arrival in Florida, my grandfather became the VP and General Manager of Roux-Askew-Dantzler, Inc. in Tampa. By 1925, it was one of the biggest and most successful lumber exporting companies in the Southeast  In the late 1920's, though,  many things went badly for the economy and mistakes were made at the company.  It went bust, and my grandfather moved from Plant City out to Lake Garfield near Bartow where he went into the fruit crate business.  He invested wisely in citrus properties and by the late 1930s had become a very successful grower.
Harry Lee and Mary Emma Askew had four children: Emma Hearn born in 1908, Bernice Ethelda born in 1910, Mary Lee (my mother) born in 1913, and Harry Lee, Jr. born in 1916.  They would become known as "Sister," "Bunchie," "Sunny," and "Brother," respectively.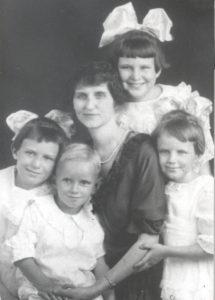 This is a picture of the children with my grandmother taken in about 1919.  "Sister" [top] and my mother are to the right and "Bunchie" and "Brother" are to the left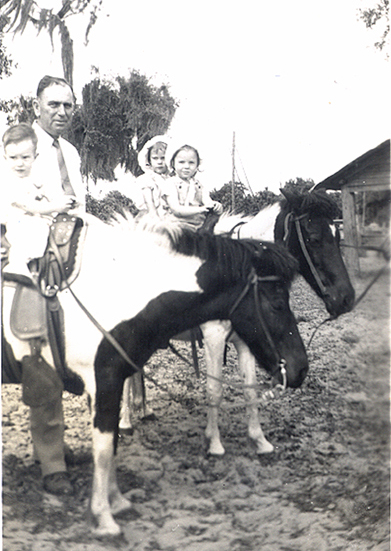 To complement his beloved children, Harry Lee had five grandchildren born before his untimely death in September 1945. The oldest of those are shown aboard their own Shetland ponies in this picture taken about 1943 .  I am in the foreground next to my grandfather, and my older cousins, Ann and Mary Lynn, are in the background
Mary Lee Askew  (1913- 1995)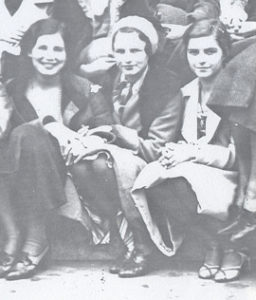 Mary Lee Askew [center of picture] was born in Columbia, Alabama in June 1913, the third child of Harry Lee and Mary Emma Hearn Askew. A few years after her birth, the family moved to Hillsborough and then Polk County, Florida. Mary Lee attended the Florida State College for Women (FSCW) where she obtained her B.A. in English. While in Tallahassee, she met Robert M. Holley, who was attending the University of Florida and had a small sign business uptown. His father, Chester O. Holley, was State Assistant Commissioner of Education (Industrial Arts). In January 1933, the couple eloped and ran off to nearby Crawfordville, FL to get married. Mary Lee was suspended from FSCW for this "brazen" act. She was eventually reinstated and graduated in Summer 1934. A short time after their marriage, at age 19, they moved to New York City, where Robert  soon became a well-known cartoonist with Esquire Magazine, illustrator of popular sheet music covers, and later was very successful in the print advertising business.
VISITORS FROM NEW YORK
This is a photo of my father and mother almost identical to one that appeared in the Lakeland Ledger, FL newspaper noting their visit to my grandparents in July 1939.