THE HEARN FAMILY
© Copyright 2007,  Robert M. Holley, Jr.

Hunting the Hearns
Since the late 1990s, perhaps even before, several of my Hearn cousins have been actively (and often independently) researching their old family.  I joined the hunt shortly after 9/11 and benefited greatly from the work of folks in my direct line: Nancy Aldinger Husebye, Rebecca Saunders, Patricia Panek, and Elizabeth Panek.  In associated Hearn lines, there were: Maurice Hegwood  and William Hall (Emma Hearn Favors' line),  Julie Dowling and Jerry Hearn (Joseph Hearn's lines), and Ruth Ferguson (Caswell Hearn's lines), and in the Watson lines there were Susan Nash, Cliff Jackson, Bonnie Rumford,  and Delana Haynes.
Summary
What we have collectively discovered (only with a lot of detective work)  is that there are two recent (post-1820) "main branches" of our Hearn family— one headed by a Joseph Hearn and the other by our own somewhat younger great-great grandfather, George Washington Hearn.  Both of them were sons of a Benjamin Hearn who was son of a Mason Hearn, and grandson of a James Hern.  We are not certain at this time if Joseph and George Washington had the same mother. Benjamin may have had two different wives.  The one mother we do know about was our ggg-grandmother, Mary Jane Watson.  We found that Benjamin and Mary Jane Watson Hearn were both born in Johnston Co., NC in the late 1700s. They removed to Sumter Co., SC about 1810, thence in 1826 to some place in Tennessee, where they stayed along with Joseph during the 1830s, and then finally about 1840-50, came back to Georgia/Alabama near Columbus, GA.  Joseph Hearn was born in South Carolina about 1820. Our George Washington Hearn was born in Tennessee in 1834 [which is a very unique birthplace for Hearns who later settled in Georgia/Alabama].
Roadmaps
Up to September, 2001, I really knew only a few things about my grandmother's Hearn family– things that my mother had happened to tell me before her death in 1995, and which fortunately I had carefully written down.  I guess I needed an outlet to get my mind off the national tragedy, and I started using my 40 years of computer skills and some near-retirement spare time to track a few of my families.  The Internet and e-mail have revolutionized genealogy, and I was absolutely astounded at the quick progress I made on the computer, meeting a number of my near cousins, and getting much of the Hearn family figured out back to the 1830s.
Little of that would have been possible, though, without the core summary of information (Hearn names and birthdates) I had from my mother, and a very brief, handwritten, one page summary of the old family (more key names and dates) that one of our old great aunts, Emma May Caldwell, had written down for her children about 50-60 years ago.  One of my cousins gave me a copy of this old paper, and that became my second  "roadmap."   Toward the very bottom of this page, there was scrawled the interesting line:  "Granpa  Bro Joseph died in Civil War, @Elmo out Montgomery find list volunteer of Ala, Hearn born near Robinson Springs there"
The Search for Joseph
For some reason I can't explain, I was very intrigued by this entry, and I began to look for a Joseph Hearn who fit this clue— a then little-known (to us) brother of my great-great grandfather, George Washington Hearn.  I did quite a bit of research on a prominent Joseph Hearn who lived over near Montgomery AL, but it just did not pan out. I could not connect this person to our family, and, if I recall right, he did not die in the War either… [we think now that  Emma May saw some kind of monument near Montgomery with a "Joseph Hearn" on it, and thought that just might be our family's Joseph.. not really a fact she knew for sure].
My cousins also told me that the first time we were certain that our own line of Hearns appeared in the U.S. census was in 1850 Stewart Co., GA near Lumpkin..  A Benjamin Hearn [our ggg-grandfather], wife Mary [Jane], born North Carolina, and three children were in the same household.  Jane, my George [Washington], and James… all of their kids… were born in Tennessee.   I didn't pay much attention to anything else in the 1850 census and went merrily off on the Internet looking for the family's whereabouts in 1860.  I discovered fairly quickly that in 1860 Benjamin, Mary Jane, and son James Hearn were in one household, and newlywed George Washington and Mary Ann [Byrd] Hearn were in another– all of them just across the Chattahoochee River in Russell Co., Alabama.  Sister Jane was in another nearby household married to a John Dozier.
A while later, I happened to start looking again for this elusive Joseph Hearn, and I put that name into a census index search…  a Joseph Hearn came up in 1850 Stewart Co., GA,  right around the corner from where our Benjamin Hearn and family had been… Boy, this was interesting — especially because Joseph had a son, Will, age 14, born in Tennessee just about the time of birth of our Benjamin's Tennessee children who were still living with him.  This Joseph had been born about 1820, so it is certainly quite possible that he was an older son of Benjamin, who maybe followed his family over to Tennessee, started a family of his own and had this son, Will.
Joseph Leads to Caswell
Two sets of children for Benjamin — older and younger– were certainly possible because our ancestor was really an old critter (born about 1784) … by 1850, he was 66– plenty of time to have had a second, earlier set of children. In 1850, next door to 1820 Joseph was an 1814 Alexander Hearn. Both of these folks, brothers it seemed, were born in South Carolina.  Strange to have a South Carolina Benjamin, born in North Carolina, and then siring children in Tennessee I thought, but I reasoned that  Hearn children born in SC  1814-20 might lead to our Benjamin, if only there was a South Carolina Benjamin Hearn anywhere in the 1820 census…. So, I looked.  Yes, there was one in Sumter County! And, living right next door there was a Caswell Hearn (to me a very unusual first name).   Each had a son younger than 10; and this SC Benjamin Hearn was born between 1775-94—  consistent with our Benjamin. His wife was reported  as born between  1794-1804,  a  tad  young for the wife we know about–  our Mary Jane Watson ( ca. 1790 – ca. 1865).  (But, was Mary Jane Watson our Benjamin's only wife? He may well have married her after 1820).
Now, before I got into this research, one of my cousins had already traced the 1850 Stewart Co. Benjamin Hearn back further to one who lived in Putnam Co., GA., and then all the way back directly to a William Hearne ("William the Merchant"), who was born in England in 1627 and lived in Maryland from 1681-1691.  As I began to look at this, though, I determined that the Putnam, GA  Benjamin could not possibly be our relative.  That Benjamin had died in Georgia before 1860, but we knew our Benjamin was still alive in 1860 Alabama.  Some of the other cousins had also discovered this, and, independently of what I was doing, started looking for another possible Benjamin Hearn.  They knew from the 1850-60 censuses that ours was born in North Carolina, so they started looking at old North Carolina wills.  They found one for a MASON Hearn who died in Johnston County in 1809.  One of his enumerated heirs, a son, was named Benjamin. They wondered if he could be our Benjamin's father because my great grandfather was named Buckner MASON Hearn.  Right about that time, I  e-mailed all my cousins and asked if they ever had heard of a Caswell Hearn—  that unusual name.  The discoverers of the will messaged back right away that the other son named in the will of Mason Hearn was named Caswell.
Caswell Connects to Mason and James
So, right then, I was pretty (but not completely) certain that we had discovered our roots. My curiosity about the Joseph Hearn in Emma May's scrawled old page had accidentally provided the key clue we needed.  As a result, I became kind of obsessed with Joseph and was determined then to find out how/why he died in the Civil War.  Did he die  in  the War (as a soldier), as a result of the War, or just  during  the War?   Before there were convenient on-line census indexes, I scanned through hundreds and hundreds of pages of census records from counties all up and down on both sides of the Chattahoochee River— looking for a Joseph Hearn in 1860 who matched up with the one of 1850.  I figured that knowing which county he came from in 1860 could possibly tell us which unit he may have joined as a Confederate soldier.  After many, many months of searching, we finally did locate the right Joseph M.R. (or M.K.) Hearn in the 1860 census of Butler Co., AL, many miles west of the Chattahoochee River and far from the other Hearns. We have no idea why he went that far west to Butler, and we still do not know how or exactly when he died— still mysteries.  We do know now that his daughter Harriet married a William Stanford in Butler County in 1864.  The next trace of his family is six years later in 1870 Columbus, GA, where his widow, Eliza Ann [Stanford] Hearn, was living after the War.  She is apparently mothering a young man by the name of William Dozier, age 15, whom we know to be the son of Jane Hearn Dozier, and grandson of our Benjamin.  We know from a poignant Civil War letter of George Washington Hearn that William's father, John Dozier (Doze), died of disease in the War in Tennessee in mid-1862, and it seems pretty likely that Jane Hearn did not survive the anguish of that event.
As a spin-off of my struggle to find out about this one Hearn— a  result of my various postings on genealogical Internet forums and message boards, we discovered other cousins like Jerry Hearn and  Julie Dowling–  heirs of Joseph.  From their documents and oral histories, we were able to piece together and enumerate descendants from that branch of the family.  No one, however, seems to know very much about Joseph Hearn himself or his life.  His older brother, Alexander, is even more of an enigma; he and his wife simply vanished after the 1850 census. Could there have been still another branch of our Hearns that we don't know about?
With the evidence we had collected by the beginning of 2005, we were pretty certain that we had discovered our Hearn family roots.  We traced back Mason Hearn to his parents, James and Mason [Browne] Hern, who were born in eastern Virginia in the late 1600s and probably by around 1720 had removed to Beaufort Co., NC.  After James' death in 1751, his children  spread the family west to Pitt, Dobbs/Greene, and Johnston Counties, NC.
 Linking to the Watsons
There still remained enough puzzles in all our data to make me wonder if there could be just a coincidence in names and facts…did we really have the right Benjamin?  How/why did people settled in South Carolina, after just a very brief stay there, go over to Tennessee and then double back all the way to Georgia?  That was very strange!  Exactly where was our Benjamin Hearn between 1820 and 1850?  Why did our apparent Benjamin's brother, Caswell, not accompany his brother to Tennessee but instead in about 1830 move to Houston Co., GA?  If Mary Jane Watson was the only wife of Benjamin Hearn, why did they seemingly have no children between 1820 and 1830?
I wanted more proof, and the best way to get that seemed to me to be able to connect this South Carolina Benjamin Hearn at a very early date specifically to my known great-great-great grandmother, Mary Jane Watson.  So, I spent about a year looking at Watson families that lived near Mason Hearn in censuses for Johnston Co., NC  and then at Watson families that lived near Benjamin/Caswell Hearn in Sumter, SC.  A few families stood out, and one I noticed moved from North Carolina to South Carolina around 1810, about the same time the Hearn brothers did. That was the family of an Obediah Watson.  In 1820 Sumter, SC, there were also Watson families right next door to Obediah—  a Thomas and a D. Watson.
In August 2005, I was drafted into carrying my daughter's desktop computer up to near Boone, NC and setting it up for her to attend graduate school at Appalachian State.  The route up there strangely went almost directly through Sumter, SC.  One of my cousins from my Hancock family discovered that there was a very good Genealogical Society Research Center there, so totally on the spur of the moment I decided to stop by and see if I could find anything about these Hearn/Watson families—  my first real plunge into research without the Internet.
After about an hour at the Research Center with me pawing through old books, Shirley, the research lady, checked her card file for Benjamin Hearn and came up with a cross-reference to a mortgage deed from 1814.  The co-mortgagee with Benjamin was THOMAS WATSON.  I took a very, very deep breath and headed for the Sumter Co. Courthouse.  There, I found that Benjamin had been involved in several different land transactions with both Thomas and Obediah Watson, and that they had adjoining lands with a Dempsey Watson.  The best I could discover on that one day was that these people stayed in Sumter Co. for about 15-20 years— say 1810-1827; then they all disappeared from that location; there were simply no more county records for any of them after that time.  That's completely consistent, though,  with what happened with our Benjamin Hearn; we know he was in Tennessee by 1830 for his daughter Jane's birth.
Eureka !!
I could hardly contain my excitement as I rode up into the mountains of North Carolina.  As soon as I set up my daughter's computer, I messaged all the cousins.  In the interim, I poured back over our data and discovered that Caswell's first son, by a second wife, was named MASON OBEDIAH.  So, his wife, Sarah, was a Watson too!!  The boy was obviously named for his two grandfathers! In all likelihood, as was often the case in those days, a pair of brothers (Benjamin and Caswell Hearn) married a pair of sisters (Mary Jane and Sarah Watson).  Thomas Watson was likely the girls' brother.
By the strict rules of genealogy, of course, much of the above is speculation, but it is well supported speculation.  The real "proof" now might be to find a will for Obediah Watson; none seems to exist in South Carolina.  Upon my return to Miami, however, I found another "smoking gun," which pretty well sealed this case for me.  I had "totally out of the blue" received an e-mail from a Susan Nash  in Texas, who had seen a message about Obediah Watson that I had left on a genealogical message board in 2003.  She had independently fingered Obediah as the likely father of her relative Thomas Watson.   The clincher for both of us was that she knew from oral history that her Thomas Watson and brothers had left South Carolina in about 1827 on the way to get free land in east Texas then being offered by Stephen Austin.  On the way, in about 1829, someplace in Tennessee,   Thomas had fallen off his horse and was killed.  His widow and children eventually had to return to live with her kin in Pike Co., Georgia.
We Were Supposed to be Texans !
Now, it all finally made some real sense.  Our Benjamin Hearn and his sons accompanied the Watsons on their long journey toward Texas to get free land; they all left at the same time.  From the South Carolina land records, Thomas Watson and our Benjamin appeared to be longtime business / farming partners.  When the accident happened, though, it set back the whole relocation plan.  Also, around this same time, the free land in Texas began to have a lot of "strings attached," and Mexico began to disfavor new American settlers.
Eventually, Benjamin Hearn, who did not seem very wealthy, decided to go back east— perhaps to get some of the Indian land that had opened up in Georgia.  We know that one of the Watsons (Dempsey), after a brief stopover in Tennessee, eventually made it all the way to Texas.  His apparent brother, Nathan, made it to Bedford County in south central Tennessee, and he settled down there.  That is also where we now think our Benjamin may have been between about 1830-1836.  How and when he got back to Georgia, and whether his son Joseph stayed with him the whole time, are unknown.  A Joseph Hearn shows up in the Stewart, GA census in 1840, but Benjamin and presumed son Alexander do not appear until 1850.  Perhaps Benjamin's family  just got missed by the 1840 Georgia census taker.
OUR GRANDPARENTS:
James Hern (ca. 1690 – ca. 1752)          
Our 5th great grandfather, James Hern,  first appears about 1710 in the church records of eastern Virginia (Middlesex) as having wed Mason Browne, daughter of William Browne.  We believe that James' family is a southern offshoot of the Hearn families of eastern Maryland that descended from "William the Merchant" Hearne.  James and  Mason removed to Beaufort, NC where James died about 1752.  In his will, he left his estate to wife Mason and his children: James, William, John, Mason, Mary, Ellinder, Elizabeth Odom, Sarah Evans, and Rachel.  Mason Browne Hern lived until at least 1755 when she is found with her son William in a Beaufort Co. Tax List.  William Hearn/Hearne is found in the 1762-3 Tax lists of Pitt Co., NC.
Mason Hearn (ca. 1735 – 1809)
Mason Hearn, our gggg-grandfather, was likely the youngest son of James Hern.  He shows up in the 1780 Tax List of Dobbs/Green Co., NC and in other records for those counties in 1782-89. Mason is listed in various 1787 records, and in the 1790 and 1800 censuses, for Johnston Co. NC.  Mason married Priscilla Rogers, daughter of Daniel and Elizabeth Rogers.  When he died in 1809 in Johnston Co., Mason left his estate to wife Priscilla and children Benjamin, Caswell, Anny, Fannie, Elizabeth, Sarah, and Arcada.
Benjamin Hearn (ca. 1786 – ca. 1865)
Very soon after his father's death, our 3rd great grandfather Benjamin, and, just a bit later, brother Caswell, moved from Johnson Co., NC to Sumter Co., SC.  Benjamin can be found there in the 1810 census.  By about 1814, he had wed and apparently had one son, Alexander. 1814 Sumter Co. land records  show that he had property with Thomas Watson on the Broad Branch of the Black River and later just west of the Scape Whore Swamp. The latter lands abutted those of Obediah and Dempsey Watson. No record of the Watsons or Hearns can be found after about 1825 in Sumter Co., South Carolina.  By 1830, Caswell Hearn, his wife, Sarah Watson, and Caswell's mother, Priscilla, had removed to Houston Co., GA.  The Watsons and Benjamin Hearn's family, including his probable second wife, Mary Jane Watson, journeyed toward Texas, stopping off in Tennessee by the time Jane Hearn was born in 1830.
George Washington Hearn (1834-1882)                               
Our great-great grandfather was born some place in Tennessee on May 5, 1834.  In 1854, after the family's return to Stewart GA, he married Mary Ann Byrd (ca. 1836-1903), daughter of John Wesley and Nancy Howard Byrd. After the Civil War was underway, in March 1862, George joined Company H of the 3rd Battalion, 3rd Georgia Volunteer Infantry, and then in 1863 he transferred to Company K of the 37th Georgia Infantry.  He served with the Army of Tennessee in the Cumberland Gap in 1862 and was captured in the Battle of Chickamauga in September 1863.  He was confined in the Zolicoffer Barracks / Maxwell House in Nashville, TN and was a survivor of the famous collapse of that structure  in September 1863.  George Washington and Mary Ann Hearn's children were: Mary (ca. 1856), Emma L. (1859), Buckner Mason(1860), Lula Anna (1865), Minnie Lee Byrd (1868), Sarah Lucretia (1869), John (1872), and  Allene (1875).  After the Civil War, to survive the economic chaos that Reconstruction brought, George Washington settled in the Columbus, GA area and got involved in the lumber business, as did his sons and most of his sons-in-law.
Buckner Mason Hearn (1860-1947)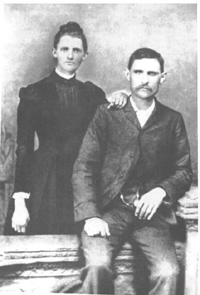 Our great grandfather, Buckner Mason Hearn, was born in Opelika, Alabama on January 4, 1860. When he was old enough, he joined his father and then his brothers-in-law in successful lumber businesses.  In June 1880, he married Julia Frances Dimon, daughter of  Joseph Keys and Sarah M. [Skinner] Dimon of Columbus, GA.  Buckner and Julia [pictured left]  had the following children:  Willa Mae (1882), Joseph Shelton (1884), Sallie Effie (1886), Mary Emma (1887), George Glenn (1889), Buckner Mason, Jr. (1892), Ina Frances (1893), Louie Haygood (1896), Robert Farley (1898),  Nell Katherine (1902), Charles H. (1905), and Julia (1909).  Sallie, Buckner, Jr., and Julia died as infants. Julia Frances Dimon Hearn died in 1916. Julia's family is exhaustively documented all the way back to 1650 in an excellent book by John McKay Sheftall–  The Dimon's of Fairfield, Connecticut.  We are indebted to that author for ascertaining  and documenting many of the facts about our post-1880 Hearn family.
During the twenty-five year period from 1897 to 1922, Buckner and his family lived in at least sixteen different places in Alabama, Georgia, and Florida as he established and operated various sawmills.  He acquired interests in some of the local railroads in southern Alabama and for a time became rather wealthy.  Some of Buckner's childhood memories about the end of the Civil War and his experiences "following pine trees around" to make a living were the     subject of a very entertaining Polk County, FL newspaper article in the 1940s.
Mary Emma Hearn (1887-1971)                         
My grandmother, Mary Emma Hearn, was born in Seale, Alabama on September 19, 1887.  Her father, Buckner, in addition to being a lumber man, was a Methodist circuit preacher, and as a child she used to ride with him on some of his speaking engagements.  That probably accounts for her remarkable faith and her uncanny knowledge of the Bible. In 1903-4, Mary Emma attended and graduated from the Alabama Conference Female College in Tuskeegee.  In December 1906, in Camilla, GA, she married my grandfather, Harry Lee Askew.