One of the most challenging and satisfying searches I've done since getting into this business took place over a period of ten years and involved turning one tiny shred of evidence into a largely successful "find."   This was the case of my gg-aunt Mary Hearn, elder sister of my g-grandfather Buckner Mason Hearn, and first child of my gg-grandfather George Washington (GW) Hearn .
By late 2001, when I first started doing family history, my cousins had already made great progress tracking the families of GW's children.  The only one who remained a mystery was Mary Hearn, born a few years before my g-grandfather Buckner.  The only clue we had for her existence was the same scrap of paper  that Emma Maydell Caldwell had used to scribble down very brief remarks about what she knew about each of GW's children.  We had already used Emma Maydell's list as a jumping off place to search for Joseph Hearn—step brother of our George Washington Hearn, and coincidentally to help track back our Hearn family to the 1700s.
The clue aunt Emma Maydell  left us for Mary Hearn was toward  the top of the page:
Mary Parks  1856 –     —- Meigs (Midway
The format for the others listed on the page was generally:  name, DOB, place of death, but Initially I had absolutely no idea what the last words on the line meant;  if "Meigs (Midway" was a place,  where was it – Alabama, Georgia, Florida– where?
The only thing at all on "the web" that had both a Meigs and a Midway was the Midway Baptist Church Cemetery a little east of U.S. Route 19, just outside Meigs/Ochlocknee, GA.   Somewhat later I learned that several of the older Hearns had supposedly located Mary's grave either "on the road to Camilla" or "near Camilla."  GW's daughter Minnie Lee (1868-1956) had married John Richard Caldwell, and they eventually settled in South Georgia near Thomasville.  If  it was the Thomasville  Caldwells who were hunting Mary, and they wanted to go north  to Camilla, GA, the shortest road route (Route 19) and railroad route goes right a bit east of a little town called Meigs.  The Midway Church Cemetery, a little southeast  of Meigs, would be about half way between sizable towns– Thomasville and Camilla— so maybe that's where the name "Midway Church" originated.
[Thomas, Mitchell, and Grady Counties, GA border each other near Meigs, which is right on the border of Mitchell and Thomas.  Camilla to the north is in Mitchell County. Some of Mary Hearn Parks' family, whom I eventually located, lived near Spence on the Grady Co. side. Others lived around Ochlocknee, and Chastain, just east over the border on the Thomas Co. side.  The Midway Church Cemetery would be a natural place to serve all these tiny communities.]
In May 2003, I had some time to kill while staying with my daughter in Tallahassee after her graduation from Florida State University, so I decided to take my very first genealogical cemetery trip about 55 miles up north to Meigs/Ochlocknee, GA.
According to the cemetery keeper, Mr. Allan Hayes, whom I managed to contact before my trip, the adjacent Midway Baptist Church has no burial records for the older interments.  Further, at that time, it did not seem that there was any record of any Parks family in the church records. So, this novice grave explorer was pretty much "on his own."
Thinking back on it, I had no idea what to expect at the cemetery —notepad, tape recorder, camera, umbrella, hat, bug spray—what else do you bring?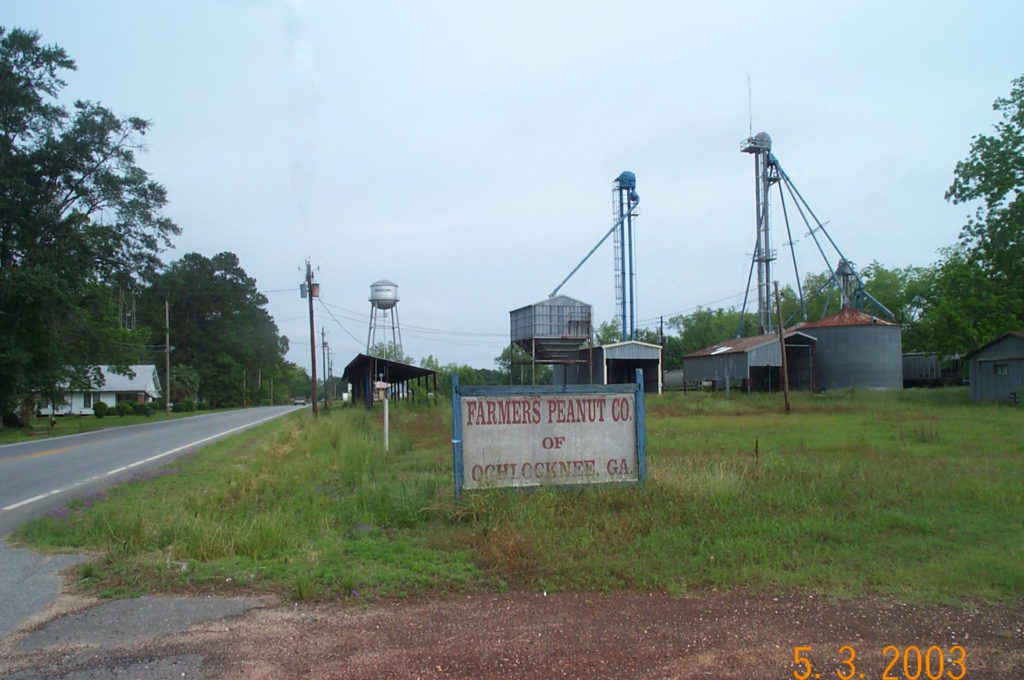 On the way up Route 19, just south of the cemetery location,  I stopped at a railway siding in Ochlocknee–   a place  seemingly stolen right out of times far past-
The church and cemetery seemed a bit more millennial, but not much.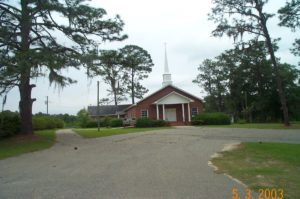 Midway's cemetery graves are laid out in rows running roughly north to south. Headstones/inscriptions face east.  I spent quite some time walking through three acres– a few hundred graves—looking for PARKS stones–  babbling into the tape recorder as I want along.  The only graves of any real interest were in the southwest corner of the cemetery, not far from the road/parking area.  There were two adjacent sets of PARKS graves, and there was one set of apparently associated graves of a PALMER family.
The first PARKS plot contained six marked graves; these were all flat mortar stones with imbedded metal plaques:  two adults and four infants.  The second plot close by contained five graves—seemingly four adults and one child.   No sign of a Mary Hearn (b.  ca. 1856), but fortunately I was still taking copious notes.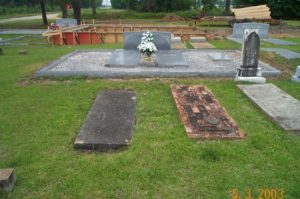 The second PARKS plot was of more interest to me because there were two adult –looking graves that seemed older than the rest— one of those, a crumbly brick-topped affair, was completely unmarked.  The one to its left had a badly worn inscription cut into the flat moldy mortar.
What did that inscription say?  How could I possibly read something so faint?  I spent some minutes trying to decipher it… Not having much luck, I noticed that there was some kind of construction site about fifty feet west.  I got a small clump of Georgia clay and a small plastic broom that someone had providently left there and worked the clay into the moldy grave top.  Miraculously, part of the inscription emerged.    I  read:
Mrs  Maggie  ??  ??obels
Born in Marion County
Georgia  Sept 6 1875
Died  Sept 20 1934
No harm that ?????
together made shall
be a sure ????  word
[the pink letters were very doubtful]
However I might have read it, at that time the deciphered surname made absolutely no sense to me. Seven long years later, however, we were able to figure out exactly who was in that grave.  No such luck, though, with the brick-topped one just to the right— it remains a mystery even until today.
Overall, I was a bit disappointed after doing a few hours' hard work—it seemed that there was no obvious Mary Parks in that cemetery. Along with voluminous notes, some photographs, and a few death certs I pulled at random  (@ $10 each) for some of the marked grave names, I would soon be back in Tallahassee with nothing but a whole set of new mysteries.  Who were all these Parks people in so many graves?  And maybe Palmer people too? I really wondered–  were they associated with our Mary Hearn at all?
After pulling three Parks death certs at a state office in Thomasville, I got to visit a few hours with the lovely Charlotte Hicks Kanning Hungate, who filled me in on all she knew of our Hearn family.  I believe she might have been the one who said the Caldwells felt that Mary Hearn Parks was buried up the road "halfway to Camilla."
Charlotte, was a great-grandchild  of GW Hearn, and thereby   gg-grand-niece of the sought-after Mary Hearn.  She was grand-daughter of Mary's sister Minnie Lee Hearn (1868-1956), daughter of Kate Rebecca Caldwell Hicks (1903-1965), and thereby niece of  Emma Maydell Caldwell (1891-1975), who had written down the family history list.  Charlotte, aged 73, with her older brother John, then aged 78, was still running the famed Hicks clothing store (est. 1936) on Broad Street in Thomasville. [As I write this blog, I was greatly saddened to discover that both John and Charlotte are no longer with us.  Charlotte died in Tallahassee on Christmas, 2015.  Definitely one of a kind—she will be much missed!]
Once back in Tallahassee, via my daughter's computer with a horribly slow dial-up Internet line, I did a quite thorough job of census hunting for Georgia  Parks and Palmer families.   It got to seem like kind of a fruitless task at the time, but thank goodness I was unusually careful writing down everything I found because eventually it paid off.
After some months back in Miami, poring over the cemetery data and trying to connect it up to real people, by 2004, I had concluded that we just could not determine for certain if our Mary Hearn was in the Midway Church Cemetery, and, for that matter, we could not even be really sure that she had been married to someone named Park or Parks.
What did emerge, through looking at census and other Georgia records, and via data kindly supplied by a Parks family researcher, Kathryn Parks Vann, is that a W.A. (William Augustus) Parks, enumerated in 1880 and 1900 censuses, had by 1920 relocated his family south from Columbus, GA,  down to Marion Co.,  and thence down to Spence in Grady Co. just west of Meigs.  There were  12 graves (including three for the nearby Palmer family) on the forward edge of  the  Midway Church Cemetery that  definitely belonged to the family of that Augustus Parks– half related to children of his first wife, Mary Elizabeth Hobbs, and half related to children of a second wife . Only two of the graves—the crumbly brick one, and the one with the faded inscription could not be definitively identified.
I was able to trace back Gus Parks' family quite thoroughly and found that he had been married at least twice. According to one source, his second wife was purported to be a Mollie O'Hearn [tantalizing, but hardly definitive].  I wrote some letters requesting information from some people who were supposed to have known this Augustus (Gus) and Mollie Parks.  I never heard back from anyone.  So, that's where the mystery lay in 2004— for the most part, unsolved.
In April 2010, I received a message from one of my cousins about a lady we had previously eliminated as a suspect for our missing Mary Hearn.  This got me to thinking about Mary again.   I realized that the State of Georgia Archives had recently put on-line all GA death certificates from 1919 thru 1927 AND had also made available microfilmed images of many counties' marriage books. I wondered if this new data could possibly give us some more clues.  The best look we had at the second wife of Augustus Parks was in the 1900 census.  Gus was in Pine Knot District of Marion Co., GA, married 20 years to a lady named M.J., born in March, 1858.  The wife's first initial was good and the DOB was reasonably good, but those damned initials– what was this lady's full given name?
I searched the GA death certs but could find no Mary Parks in the then available 1919-27 time frame.  So, I decided to check for marriage certificates.   The 1900 census indicated that Gus had been married for 20 years, so I decided to look at marriage certs for 1880. The 1880 census for June 3, 1880 shows Gus Parks listed as a widower in Columbus, Muscogee Co., GA with three small children by his Hobbs wife.  The children's names matched those in the Midway Cemetery.  Judging from the children's ages, the first wife must have died around 1877.  The 1880 census does not show up our Mary (or any of her siblings), but her parents G.W. and Mary Byrd Hearn were living in Columbus on June 8, 1880.
Were there any Parks marriages in Muscogee Co. in the last part of 1880?  WOW, there it is on the bottom of page 266 of the 1873-1881 Muscogee Co. Marriage Book, dated June 13, 1880 —  the marriage of William A. Parks to one  MARY A. HEARN !
This 1880 marriage seemed like a certain proof that our Mary Hearn became Mary Hearn Parks, but there were some lingering doubts mainly because of the way she appears or does not appear in census reports and other documents – "M.A. Hearn" in 1880 marriage cert, " M.J"  in 1900 census report, 1910 census  – none for certain found;  not listed with husband in 1920 census report, and "Mollie" in the 1930 census report .   The initials M.A. made sense because her mother was Mary Ann Byrd; the initials M.J. also made sense because her grandmother was Mary Jane Watson, but which was it– M.A. or M.J.? There were also small discrepancies between 1900 and 1930 census reports as to the age and place of birth of Gus Parks' wife. It surely would have been nice to find her in 1910 or 1920 census, but she didn't seem to show up.
Facts in favor of our Mary Hearn being married to Gus were the following:
(1) Emma Maydell's  family list had proven to be absolutely correct in almost every instance involving her immediate family —  for her, our Mary Hearn had become a Parks and was associated with the Parks people in the Midway Church Cemetery.
(2) The 1880 marriage was a sensible family intersection.  William Augustus (Gus) Parks came from a then prominent and fairly well-to-do family in the Columbus, GA area. Gus' father, John Gildersworth  Parks (1830-1911), was enumerated  as a "lawyer"  in the 1860 census, and in 1880 he was listed as a "house builder."  In 1880, son Gus appeared as a "teamster."  Gus' uncle William Gildersleeve Parks was a carpenter.  George Washington Hearn, Gus' "father-in-law to-be", was listed as a "lumber dealer."
(3) Around 1930, a lot of the Parks folks – Gus' second set of children– who had been living around Spence/Meigs, GA removed to the vicinity of Umatilla in Lake County, FL.  Since the 1930 census had Gus and Molly living in Spence with one of their children, I decided to start looking for the old couple in post-1930 Florida.  Good move.  I soon located an abstract of the Florida death cert for William Augustus (Gus) Parks, who died in Umatilla Dec 30, 1933.  He was listed as "married" with spouse named Mollie, and he was buried in Umatilla.
Lacking information on what happened to Mollie Parks after 1933, on an impulse, I decided  to try to look at death certs for Gus' children who had moved to Florida.  And there I hit real pay-dirt.   Gus' and Mollie's first child was William Chester Parks (1881-1928). His Florida death cert abstract lists:  Birthplace:  Columbus, GA;   Father:  William A. Parks – birthplace:  Georgia;  Mother:  Mollie Hearn – birthplace:  Motts, Alabama.    Motts Alabama is a tiny little place in Lee Co., AL; it's located on the railroad very near Salem and Smith's Station, precisely where we know GW Hearn and his family were living in 1860-1870!
Rather mysterious that there seems to be no record anywhere of our Mary Hearn Parks' death. She would have been about 76-78 years old if she was living when Gus died the last few days of 1933, so I do not expect she outlived him by much.  Some of her children are buried in Umatilla Cemetery  and the Glendale Cemetery in Lake Co., FL, but so far our check with record keepers of these cemeteries to see if there are possibly other Parks burials has turned up nothing for Mollie.
I wondered if Mollie Parks could have even wandered north in 1934 and died there with her people in South Carolina.  While I was studiously compiling a very complete record of the Parks family going all the way back to its origin in North Carolina, I discovered quite by accident that:
Maggie (1875-1937), Gus Parks' daughter by his first marriage, married about 1899 a South Carolinian, William John Jacob Nobles (1863-1936).  Maybelle (1890-1957), Gus Parks' daughter by his second marriage, married about 1911 Thomas Ben Nobles (1874-1959), brother of the above.  By 1910, Maggie and her husband are found in 1st St. Johns Twp., of Berkeley Co., SC., north of Charleston.  They are there through 1930, and her married half-sister Maybelle is nearby in 1920, 1930, and 1940. In the 1910 census, a Willis J. Nobles and Maggie are right next door to a Willis A. and Margaret Parks.  There are definitely age and birthplace discrepancies in the Parks data, the name Margaret does not make sense, and no children are listed as might be expected, but I really have to wonder if this is not our William A. and Mollie Parks, who do not seem to appear anywhere else in  1910 census data.
Several people involved in these 1910 enumerations, including the male Parks, were involved in saw mill labor, and that got me thinking. A bit strange that these Nobles brothers apparently wandered way down to Georgia and met/married the Parks girls. Very Interesting that they seem woods/lumber oriented.   Maggie's father-in-law, James Riley Nobles  (1827-1890), was a barrel maker.  In 1930 census,  Maggie Parks' husband William Nobles  is clearly listed as a "woods rider for a lumber company."  Now, think about it.  My g-grandfather Buckner Hearn, a lumber tycoon operating all over three states, employed almost everyone around him as an agent for his empire–  many of his in-laws eventually got involved with lumber..  so why not his older sister Mary and her husband ? My guess is that Berkeley Co., SC was for a time Buckner's northernmost outpost!
Whatever the South Carolina connection to Gus and Mollie may or may not have been, the marriage of Maggie Parks to a Nobles cleared up one issue at the Midway Church Cemetery.  The person in the moldy grave on which I rubbed clay to read the faint inscription is none other than Maggie Parks Nobles (b.  1875). She seems  to have died in September 1937 rather than 1934 as I thought I read on the stone marker.  She died in Thomasville, GA and was thereby not buried with her Nobles husband (d. 1936) in South Carolina as was her step-sister Maybelle. The family evidently felt it would be more appropriate for Maggie to be with her natural brother (Homer) and sister (Ennis) in the Midway Church Cemetery rather than being shipped all the way back to South Carolina.
So for the Midway Cemetery, that leaves only the strange old brick grave w/o any legible inscription or hint of whom is therein interred.
I am 95% certain that our Mary Hearn was married to William Augustus Parks, but we still have no conclusive proof for where she died or where she is buried.  From the Florida death certificate abstract of Gus Parks, it seems quite reasonable to believe that Mollie was still alive at the end of 1933 and living in Florida.  But, there is no death record or cemetery record for anyone named Mollie or Mary Parks in Florida, Georgia, or South Carolina.   I suspect that she is buried with Gus in or near Umatilla, FL.  It does not seem reasonable to believe that Mary Hearn Parks would be transported all the way back to Meigs, GA to be interred with her stepchildren, UNLESS perhaps she was accompanied by Gus. Could they both be buried in that brick grave?
Another possibility:  if you look closely at the way the Midway graves are situated, the weathered brick one is well aligned with the three just to the right– those of the family of Homer Parks (1877-1950). He and his second wife Lula (1882-1960) are buried side by side, and young child Maggie Alene (1904-1916) is interred just to the left of them (marked with oval topped headstone); so, could there be another young child interred just to the left of Maggie Alene—one who was alive in  Homer's first wife's 1908 obituary,  but not enumerated in 1910 census?   Photos show that Maggie Alene's grave seems to be raised slightly and underlain with brick; its flat top only has a thin veneer of mortar.  The face of our crumbly brick mystery grave shows a few spots where it looks like an original mortar veneer top wore away.
The official copy of Gus Parks' actual Florida death certificate arrived yesterday.  The INFORMANT for the death certificate information was George Parks, Gus' and Mollie's son, who later appears in the 1935 Lake Co., Florida state census and who eventually (1965) was buried in the Umatilla Cemetery.  As fate would have it, the undertaker and burial information on the certificate is scribbled and hard to read.  The best I can tell, the BURIAL place is Umatilla 12/31/1933; For UNDERTAKER it is written: "No Undertaker," and for undertaker address it says: .. X Rev. Varnard, Umatilla Cemetery.  The boxes for BURIAL and UNDERTAKER are stamped "SEE SUPPLEMENTARY ATTACHMENT."  The SUPPLEMENTARY ATTACHMENT, which I also received, has exactly the same information as on the certificate itself EXCEPT for the boxes for UNDERTAKER and FILE DATE.  The supplementary information for UNDERTAKER is totally illegible—something apparently scratched out with heavy marks.  The FILE DATE appears to be February something.
So, the mystery lives on.  Was Gus Parks permanently buried in Umatilla Cemetery perhaps with no official interment or headstone?  Who is  Rev. Varnard, and why does there appear to be no one by that name in Umatilla in 1933? And, why was there a later SUPPLEMENTARY ATTACHMENT to the death certificate, which seems to have had something to do with Gus' burial?  And, of course, where is our Mollie Hearn?